Donate Useful Items to ReStore
– By #Me
Alaska Waste encourages everyone to consider donating useful household items to Habitat for Humanity ReStore to help keep reusable items out of the landfill.
ReStore keeps reusable items out of the waste stream, and money that is raised through ReStore sales benefit Habitat for Humanity home building programs and community improvement work.
If you're undertaking a home remodeling project, or just cleaning out the garage and have appliances, furniture, flooring, or other items left over, please consider donating those items to ReStore and keeping them out of the local landfill.
Habitat for Humanity of Alaska ReStore donations can be dropped off at the Anchorage ReStore during their drop-off hours. Pick-up is available for large donations. Request for pick-ups are reviewed on a case by case basis to determine if the cost of pick-up can be recovered through the resell of the donation. Please call 907-743-8060 to schedule a pick-up, or for more information regarding pick-ups. You can also email a picture of the item with a description for approval.
Donations must be reusable, structurally sound and complete, cosmetically appealing, and sellable.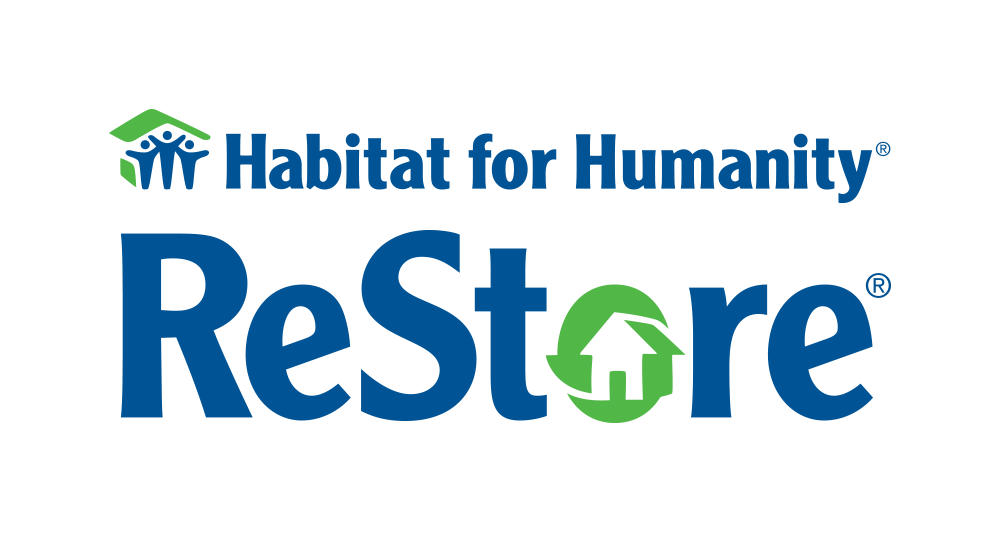 ReStore Location and Hours:
Habitat For Humanity – Anchorage ReStore
1057 W. Fireweed Lane, Suite 103
Anchorage, AK 99503
(907) 743-8060
Hours: Monday – Saturday 10 a.m. to 6 p.m.
To schedule a pick-up, or for more information about donations, call (907) 743-8060 or visit the Anchorage ReStore website.
ReStore items accepted include:
Antiques and collectibles in good condition
Area rugs – new
Bathroom vanities and medicine cabinets
Bathtubs and claw foot tubs
Blinds
Cabinet doors and drawers
Cabinet pulls, doorknobs, deadbolts and hinges
Carpet – new rolls
Ceiling fans – 2 years old or newer
Ceiling lights, pendant lights, wall mount lights, exterior lights
Commercial light fixtures and electrical supplies
Countertops
Decking, bricks, pavers, stones and cinder blocks – in large amounts and on pallets
Decorative curtain rods
Decorative gate hardware
Dishwashers - 5 years old or newer
Doorbells
Doors – interior doors, exterior doors up to 80"
Flooring – hardwood, laminate, vinyl and ceramic floor tile – new and over 150 sq. ft.
Framed art and picture frames
Framed mirrors and glass smaller than 5' X 5'
Gates and full rolls of fencing materials
Glass shades/globes for lighting
Gutters
Home office furniture (case by case basis)
Hot water heaters – 8 years old or newer
Kitchen cabinet sets – modern and modular in excellent condition
Lamps – table and floor lamps
Lawn and garden tools
Lawnmowers – 3 years old or newer
Low flow toilets that are 1.28 gallons per flush or less
Nails, screws, nuts and bolts
Outdoor fireplaces and grills – 3 years old or newer
Patio and outdoor furniture
Pipes, fittings and valves
Power tools and hand tools
Refrigerators and freezers
Shower doors – brand-new, in-box and with track
Shower stalls, shower bases and pans - new
Sinks – kitchen, over- and under-mount sinks and pedestal sinks without faucets
Sliding patio doors – frame intact and no broken seals
Sofas – solid colored
Solid wood tables, side boards, bookcases, chairs, etc.
Stoves, cook tops, ovens, ranges, microwaves and small appliances
Switches, switch plates, breakers, outlets and plugs
Washing machines and dryers – 10 years old or newer
Windows – residential double pane vinyl complete with jamb
Wire, cable and conduit – new, unopened rolls
Final approval of all items is at the discretion of the donation pick-up driver and Habitat ReStore staff. Drivers and staff reserve the right to refuse materials based on current inventory and the items condition.
ReStore cannot accept:
Appliances older than SEVEN (7) years
Appliances with rust, corrosion or non-manufacturer paint
Bedding, linen and drapes
Books and magazines
Cabinet faces
Cabinets without doors or drawers
Ceramic or vinyl tile that isn't new-in-box
Commercial Office Furniture
Chipped glass or mirrors
Clothing
Cribs and other baby items
Dishwashers without lead-free certification marks
Doors over 80" tall or not a standard width
Electronics (i.e. TV, computer, fax machine, etc.)
Entertainment centers or TV stands
Fixtures without mounting hardware
Flooring with nails, mortar, grout, chips or other damage
Flooring too small for a 10' X 10' room
Furniture with tears, stains, pet marks, smells or discoloration
Hand tools that aren't working or are missing pieces
Home décor that isn't new and in original packaging
Kitchen sets that are dated or custom built
Light bulbs, including tube lights
Mattresses and box springs
Mirrors without frames
Oversized desks (over 4' X 3')
Oversized windows (over 35 sq. ft.)
Paint and chemicals
Particle board or pressboard cupboards
Particle board or pressboard furniture
Patterned or white sofas
Rolled chain link fencing less than 15 feet
Roll up garage doors
Toilets that are not low flow (over 1.28 gallons per flush)
Track lighting
Used area rugs with rips, stains, odors or excessive wear
Used, single pane, oversized, custom or aluminum windows
Wall décor larger than 5' X 5'
Windows with fogging or broken seals
Wood casement windows
See Habitat for Humanity – Anchorage Restore's website for a complete list and more information about donations.
Help Habitat for Humanity build new homes for those in need in your community, as well as keep useful items out of the landfill, by donating your reusable items today.
---
Last Modified: