Anchorage Residential Services
In Anchorage, Alaska Waste provides safe and reliable trash and recycling collection services and offers convenient trash, bear resistant and recycling roll carts.

Anchorage Trash Handling Ordinance & Bears

Anchorage's Trash Handling Ordinance & Managing Your Trash in Bear Country: What you Need to Know
Anchorage Curbside Trash Collection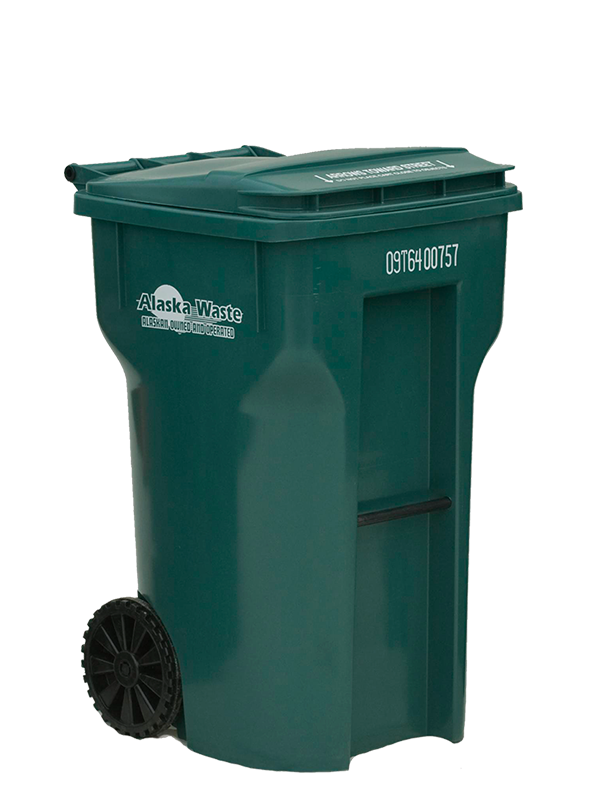 Anchorage Curbside Recycling Collection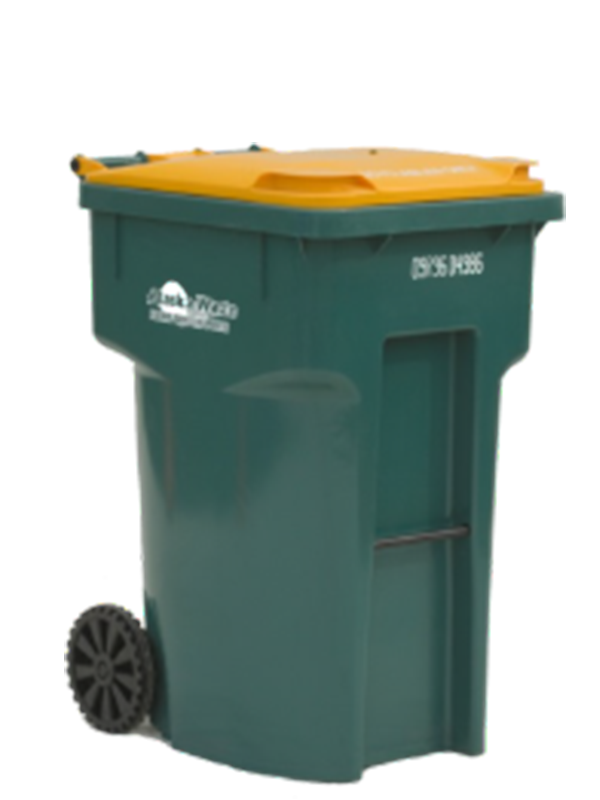 Customers receive 96 gallon recycling cart.
On collection day place cart at curb by 6AM.
Only put acceptable recycling items in cart.

Acceptable Items for Recycling Cart
| | |
| --- | --- |
| Material | Recycling - Accepted Items |
| Metals | Aluminum, tin, steel cans and bottles |
| | Empty and rinse, no lids, labels ok |
| | |
| Plastic | PETE #1 bottles; HDPE #2 jugs |
| | Empty and rinse, secure lids to the bottle, labels ok |
| | |
| Cardboard | Flatten and cut to fit into container |
| | |
| Paper | Brochures, junk mail, magazines, newspapers |
| | Paperback books, paper egg cartons |
| | Paper bags, white and colored paper |
| | Envelopes, phone books |
Unacceptable Items for Recycling Cart

| | |
| --- | --- |
| Material | Recycling - Not Accepted |
| Metal | Aerosol containers |
| | Aluminum foil |
| | Fuel containers |
| | Paint containers |
| | Scrap metal |
| | |
| Cardboard | Waxed cardboard |
| | |
| Glass | Bottles, jars, etc. |
| | |
| Paper | Cups, napkins, plates, towels |
| | Juice and milk square cartons |
| | |
| Plastic | Any #3 - #7 |
| | Bags and plastic films |
| | PETE #1 clamshells |
| | Styrofoam |
Glass, aluminum foil, plastic bags and film, can all be taken to the Anchorage Recycling Center.

All recyclables must be clean of all food waste and grease. Contamination is one of the biggest reasons recyclables get thrown out. Help keep our recycling program strong by cleaning your materials!
And remember: When in doubt, throw it out!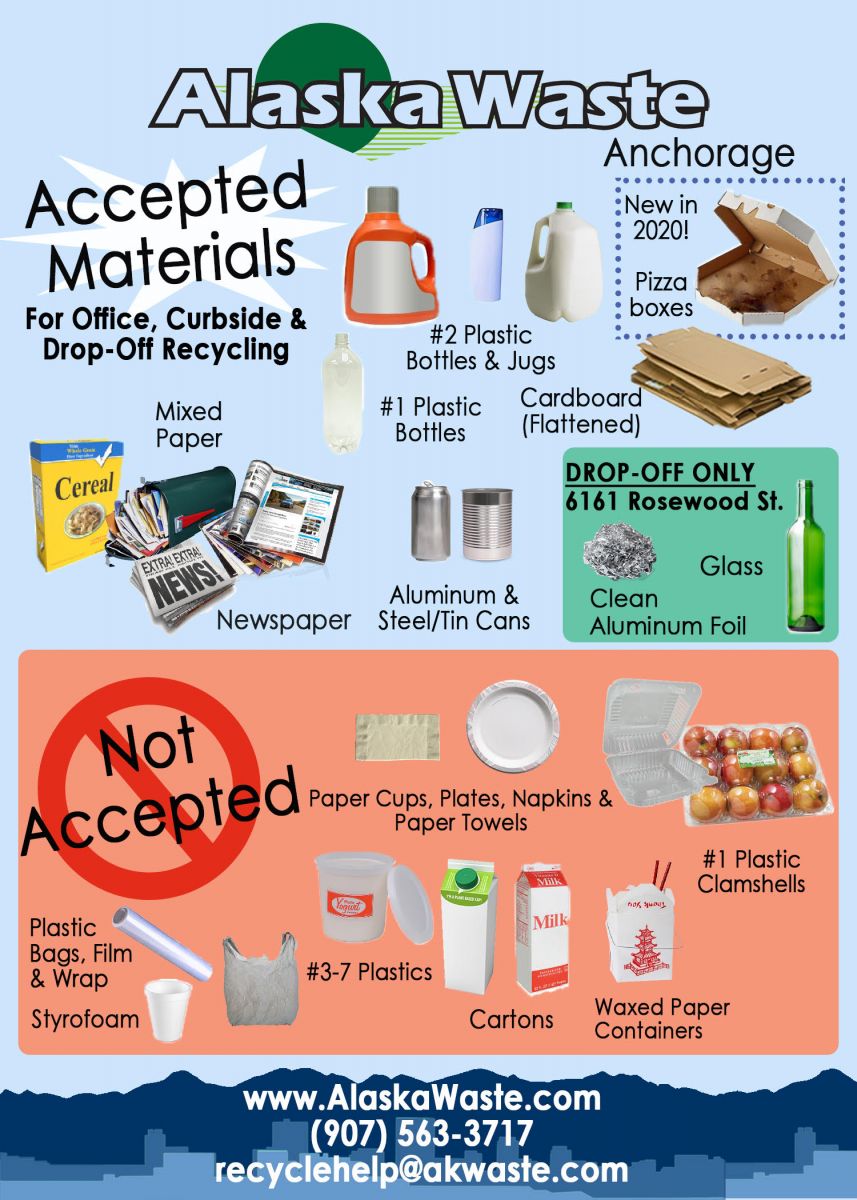 Anchorage Residential Guidelines
Please read through these guidelines and contact us if you have any questions.

Billing
Residential service is billed in advance.
Extra refuse is billed on the invoice after service has been provided.
Click the Pay Your Bill button to view invoices and payment options.

Please notify us when you have a change in address, phone number or service needs.
Containers

Trash roll carts sizes: 32, 64 or 96 gallon.
Bear resistant roll cart size: 96 gallon.
Recycling roll cart size: 96 gallon.
Only place acceptable items out for trash or recycling collection.
Due to safety and tariff restrictions, roll carts cannot exceed 150 pounds.
Do not place rocks, dirt, hazardous waste or ashes (hot or cold) in any Alaska Waste container.
Special Handling

Glass must be labeled and double wrapped (preferably with paper and plastic bags) when placed at the curbside as extra refuse.
Any animal or fish waste must be securely double-bagged. A maximum quantity of ten pounds will be accepted in any one container per week.

Extra Refuse

Carts with the lid not completely closed may be subject to additional refuse charges.
Odd sized trash must be contained or bundled and measure less than 4 feet in length or width or height and weigh no more than 60 pounds.

Each additional bag or box set beside the cart must not esceed 32 gallons in size or weigh more than 50 pounds. These are subject to an extra charge.
Large and odd sized items are able to be removed, but must be scheduled in advance. Please contact your Alaska Waste office to discuss the scheduling and pricing for the item(s) you want picked up.
Pick-Up Times and Placement

Roll cart lids must be closed, place carts so handles face your house.

Roll carts must be placed at the curb by 6AM on the scheduled collection day.

For secure trash zones, please click this link for information about the city's trash handling ordinance and bears.

Roll carts placed for service must be 3 feet from all objects or obstacles including other roll carts.
If your house number is not clearly visible from the road, label the cart(s) with your street address.
Place cart within 5 feet of the drivable roadway on the day of service, unobstructed by vehicles and other obstacles such as ditches or snow piles. Avoid placing carts where they interfere with postal collection.

Cancellation

How to Cancel Service
To cancel service, please contact your local Alaska Waste office at least 1 week prior to the desired last day of service.

Set cart out on the date agreed to during cancellation process by 6AM to guarantee removal.

If your cart is not made available for retrieval, your account may be charged a cart fee of up to $75 per standard refuse or recycing cart or $226.67 per bear proof cart.
Service Suspended for Non-Payment
Service will be suspended or discontinued due to non-payment.

A service resume fee and a cart re-delivery fee will be assessed when an account which was stopped for non-payment is resumed.

Unacceptable Items

Anchorage Residential Zone Map