Trash Handling Ordinance and Bears

Alaska is bear country. We can all play a part in minimizing human and bear interactions. Here is up-to-date information on Anchorage's trash handling ordinance, best practices for your trash, and more.
Best Practices
Keep your trash secure – inside your home or garage – until the morning of pickup.
Have smelly fish or organic materials to throw away? Keep it in the freezer until the day of pickup to eliminate any smells in your home.
Keep all other bear attractants indoors or secured. That includes dog food, fish smokers, and even fuel.
If you have domestic animals, use an electric fence to protect livestock areas.
Take bird feeders down once the bears wake up in the spring. Black bears love birdseed!
If you live in a high-risk area, consider getting a bear-resistant cart. Call customer service at (907) 563-3717 to request one.
Anchorage's Trash Handling Ordinance
In June 2019, the Anchorage Assembly passed an ordinance aimed at minimizing wildlife and human interactions. Read the new city code here.
Here's what it means for our residential customers:
Customers with regular roll carts must leave it out on "the morning of collection."
If a customer has a bear-resistant roll cart, they can leave it at the curb 12 hours prior to the day of collection. That means they can leave it out at noon the day before collection.
All customers must take their carts back from the curb by 9 p.m. the day of collection.
When not set out for collection, the roll cart must be stored inside a structure (like a garage or shed) or placed within five feet of the home/building.
Extra bags left on the side of the cart for pickup should only contain "rubbish," defined by the municipality as "non-putrescible solid wastes (excluding ashes) or recyclable material consisting of either: combustible wastes such as paper, cardboard, plastic, yard waste, grass clippings and wood; or noncombustible wastes such as metal, glass and crockery."
The city can fine residents, starting at $100 and going up to $500, if they don't follow city code.
Stricter rules apply to "Secure Trash Regulation Zones", which are areas of the city specifically designated by the city manager and Anchorage Assembly. As of june 2021, Girdwood and Eklutna are the only areas designated as Secure Trash Regulation Zone.

Secure Trash Zones in Girdwood and Eklutna
In July 2019, Girdwood was designated a secure trash zone. On April 1, 2020, Eklutna Valley was designated a secure trash zone.
All of our residential and commercial customer equipment – roll carts and dumpsters – are bear-resistant in these areas.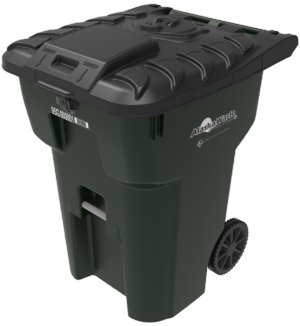 The exception to this rule is for "temporary construction dumpsters" – which means a dumpster rented for construction debris, yard debris, for less than 90 days. Those do not need to be bear-resistant, because they are intended to only hold materials like wood, concrete, etc.
If a bear-resistant roll cart or dumpster in Girdwood or Eklutna has issues, call us right away so we can get it fixed. We will have the issue fixed before the next service day. In the meantime, keep trash secured inside, and don't leave trash bags out next to dumpsters.
Roll carts and dumpsters need to be secured – if the lid is open/not latched, the city could fine you.
Map of Girdwood's secure trash zone area
The Anchorage Municipality's public notice
Map of Eklutna's secure trash zone area


About Our Bear Carts
Our Rehrig Pacific bear-resistant carts are offered in two sizes, 96-gallon and 65-gallon.
Please call us for information about our 65-gallon carts, which have a different rate in secure trash zones than other parts of Anchorage.
Alaska is a leader in advancing bear-resistant cart technology. In 2019, ten Girdwood households tested the prototypes for 65-gallon Rehrig Pacific carts, helping to develop the size commercially.

Additional Resources
Alaska Department of Fish and Game - Living With Bears
Rehrig Bear Resistant Cart Lid Information
The Municipality of Anchorage's city code, Chapter 15.110 – Trash Handling