Alaska Waste is an environmentally responsible Alaska waste management company intelligently using resources to foster disciplined growth to best serve our customers and communities.
Alaska Waste provides solid waste and recycling services to Alaska customers ranging in size from single family residential homes to large commercial front-load and roll off customers.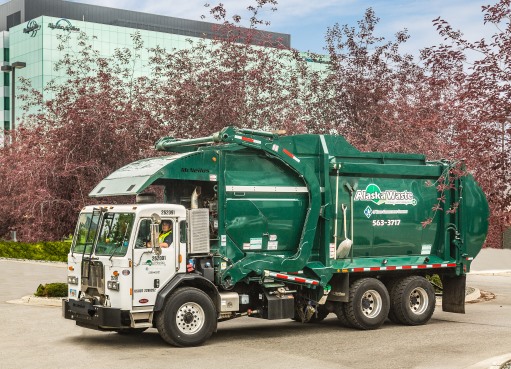 Operating the largest waste management fleet in the state of Alaska, we provide vital services to homes, schools, businesses, and government and state facilities.
From our main office in Anchorage we operate our headquarters. In September 2017, we expanded our garbage collection services to Healy, Juneau, Ketchikan, Nome, Sitka and Unalaska.
While our geographic service area may be large in scope, we strive to maintain a strong commitment to every local community we serve through our involvement with community organizations, activities, and initiatives. We contribute services and provide support to a variety of local events and organizations. Our employees live, work, and raise families within these communities and are very proud of the fact that Alaska Waste is helping to make Alaska a cleaner place to live.
Alaska Waste is committed to providing reliable and environmentally responsible solid waste and recycling services to our customers across the state. We believe in going the extra mile to tailor our services to meet the needs and expectations of our customers and to ensure consistent services at both the local and state levels while working hard to deliver the highest standard of service to our customers.
---
---