Soldotna Residential Services

In Soldotna, Alaska Waste delivers timely garbage collection services to residents in a safe and friendly manner. And, customers appreciate the pet-proof carts that keep their waste secure and contained.

Alaska Waste offers:

Convenient roll carts
Competitive rates
Five bill pay options
Great customer service
Soldotna Residential Trash Collection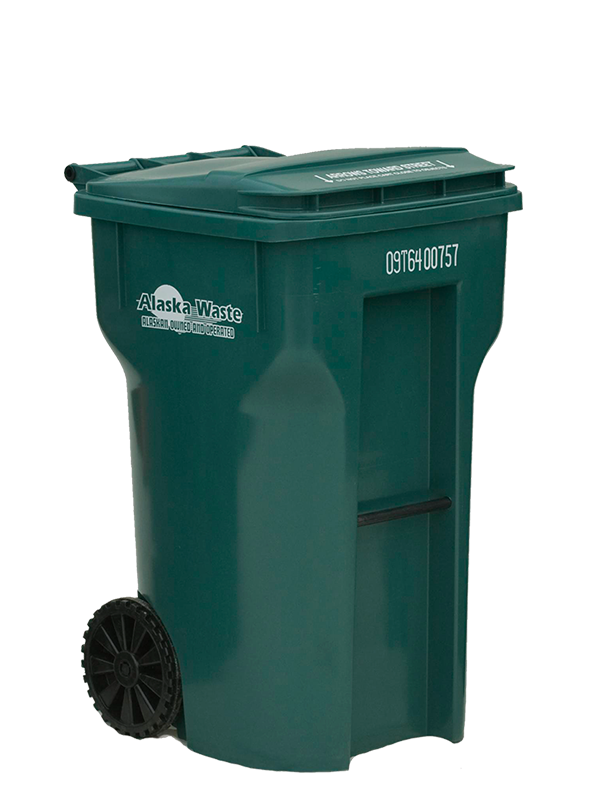 Soldotna Residential Guidelines
Please read through these guidelines and contact us if you have any questions.

Billing
Residential service is billed quarterly in advance.
Extra refuse is billed on the invoice after service has been provided.
Click the Pay Your Bill button to view invoices and payment options.

Please notify us when you have a change in address, phone number or service needs.
Containers

Trash roll carts sizes: 96 gallon.
Bear resistant roll cart size: 96 gallon.
Only place acceptable items out for trash collection.
Due to safety and tariff restrictions, roll carts cannot exceed 150 pounds.
Do not place rocks, dirt, hazardous waste or ashes (hot or cold) in any Alaska Waste container.
Special Handling

Glass must be labeled and double wrapped (preferably with paper and plastic bags) when placed at the curbside as extra refuse.
Any animal or fish waste must be securely double-bagged. A maximum quantity of ten pounds will be accepted in any one container per week.

Extra Refuse

Carts with the lid not completely closed may be subject to additional refuse charges.
Non-roll cart containers must not exceed 32 gallons or 50 pounds.
Odd sized trash must be contained or bundled and measure less than 4 feet in length or width or height.
Each additional bag or box set beside the cart must not weigh more than 50 pounds. These are subject to an extra charge.
Large items (any item that doesn't fit in the cart like couches, desks, etc.) can be scheduled for pickup. Two business days before your normal pickup date, please contact your Alaska Waste office to discuss the item(s) you want picked up and to learn the special pickup details. Special pickup charges will vary depending on the item(s).

Pick-Up Times and Placement

Roll cart lids must be closed, place carts so handles face your house.

Roll carts must be placed at the curb by 6AM on the scheduled collection day.

In bear areas, carts must be placed at curb by 8AM from May 1 to October 31.
Roll carts placed for service must be 3 feet from all objects or obstacles including other roll carts.
If your house number is not clearly visible from the road, label the cart(s) with your street address.
Place cart at least 5 feet from the drivable roadway on the day of service, unobstructed by vehicles and other obstacles such as ditches or snow piles. Avoid placing carts where they interfere with postal collection.

Cancellation

How to Cancel Service
To cancel service, please contact your local Alaska Waste office at least 1 week prior to the desired last day of service.

Set cart out on the date agreed to during cancellation process.
Unreturned carts may be assessed a restocking fee. $120 for trash carts. $300 for a bear-resistant cart.
Service Suspended for Non-Payment
Service will be suspended or discontinued due to non-payment.

A non-refundable handling fee of $75 will be charged to retrieve cart(s).
A service resume fee of $75 will be assessed when account which was stopped for non-payment is resumed.

Unreturned carts will be assessed a restocking fee. $120 each for a trash cart. $300 each for a bear-resistant cart.

Unacceptable Items